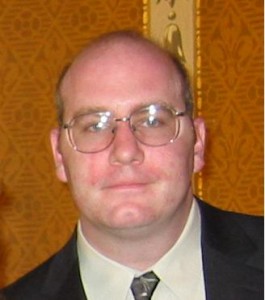 Jay passed from our lives on Tuesday November 18th, 2008 at the age of 37.  This web site is dedicated to his memory, and it is intended to be a repository of pictures, videos, and other reminiscences of him from those who knew and loved him.
We appreciate any mementos from the people whose lives he touched.  For those fully wired into the Web, emailing us pictures, stories, or other info on Jay is welcome.  For non-digital media, send it to:
Paul Neary
8 Mein Drive
New City, NY 10956
If you are interested in further information, please send an email to info@jamesjneary.org, or just click here.  We would love to hear from any of you who knew Jay.
Memorial Bench (11 Nov 2018)
Some of Jay's friends organized and funded a memorial bench for him in Hastings.  Full details are here.  The photo at the header of the web site is from that location.
Coming on Ten Years (10 Nov 2018)
Fast forward here, there's been a long lapse in the life of this web site.  I apologize, but there were some hosting issues that required a bit of work on my part to correct.  I felt I had to get this running before the 10-year mark.  I hope everyone can re-visit the site and leave some comments.  When you hit the Leave Us Your Thoughts page, scroll to the bottom to get to the spot where you can add your own thoughts.
Five Years (18 Nov 2013)
The milestones keep coming.  Now it's five years.  Hard to fathom.  So much has changed, but the hole in our hearts doesn't.  My sister added a nice comment on this 5th anniversary that says it all.  My thoughts are also with Jack, Will, and Katie.  Please follow the link to Janet's comment and add your own.
Happy 42nd! (4 Jan 2013)
Another year begins without you.  You are still missed very much down here by all who knew you.  And we've not forgotten.
Four Years (18 Nov 2012)
Four years.  It does not seem that long.  Sometimes it only feels like a few weeks since I last spoke to him.  I keep trying to recall his voice.  I still think about him almost every day.
Happy 41st! (4 Jan 2012)
Today would have been his 41st birthday.  All of us he left behind miss him every day.
Three Years (18 Nov 2011)
Today we complete three years without him.  In the past year, much has changed, of course, particularly Kevin passing on.  Rob contributed some new pics from his Grade School Reunion in 2007 [link on left].  If you're stopping by today (or in the next few days), thanks for keeping him in your thoughts.  We all feel just as awful as we did that morning in 2008.  And just as helpless.
Kevin Will Be Joining You (22 Jun 2011)
Jay's brother Kevin died on Monday, June 20th.  The link to the obit is here.
He Would Have Been Forty (4 Jan 2011)
Jay would have hit the Big Four-Oh today.  I'm sure we would have had a great time teasing him about how old he'd gotten and how much hair he'd lost.  As I've passed through my own -Oh milestones, I've done so with mild regrets about how fast time was passing.  But on a day like today, it makes me thankful for the -Oh's and realize how fortunate I am to be hitting milestones that Jay will never reach.  It just would have been a whole lot better for us all if he'd have been along for the ride.
Aunt Penne Remembers JJ (19 Nov 2010)
Last winter, right after the big snowstorm that knocked out much of the mid-Atlantic, Paul drove down to the ice-caked streets of Philadelphia to pick up Emily, and they drove down to a crippled Washington DC to interview Aunt Penne Farrell about her fond memories of Jay (or "JJ" as he was known in the family).  Emily has edited and produced this short video from the interview.  It's full of great details about Jay and what he meant to our family.  Go to the Video Archive page, or click here to go directly to the video.
Some New Comments (18 Nov 2010)
There have been some new comments that have come in today.  Be sure to read them here.
Two Years On (17 Nov 2010)
As we approach the end of this second year without him, Paul has written a short item about Jay here.  If anyone stops by tomorrow or thereafter and has any additional things they would like to add, please send them to Paul.  As time goes by, it will ultimately be about his children, and every thought you share here will be a treasure for them later on.
Some New Photos (8 Nov 2010)
Rob sent these to Paul way back earlier in the year, and finally they are up.  Click here to view them.  One or two more items are on the way as well.
A Year Later (18 Nov 2009)
It's a terrible anniversary.  Paul wrote this short piece for Jay.
Memorial Videos Posted (21 Mar 2009)
All of the testimonials from the memorial service, as well as the film, are available on the Memorial Service page.
Video Montage Available (31 Jan 2009)
Finally, the video that was shown at the memorial is available on the web site.  I had some issues getting it up, but got past those.  You can view it from the new Memorial Service page.  The footage from the actual service is still in production.  Once that is edited and compressed, I'll get it out on that page as well.  I am also planning to combine all the footage and the video montage into a DVD, so stay tuned.
Memorial Service (12 Jan 2009)
Very quickly, yesterday's service in White Plains was a great tribute to Jay.  It was so wonderful to hear stories about Jay and listen to all the nice things people had to say.  There were at least 60 people there, coming from as far away as California.  More details are coming, including videos from the memorial.  Stay tuned.
New Pics and Janet's Memories (6 Jan 2009)
Tony sent in some pictures of Jay from who-knows-when.  I've added a few and will do some more.  Also Janet has written a great set of recollections of Jay, see Memories of Jay.
Happy Birthday, Jay! (4 Jan 2009)
Jay would have been 38 today.  Would that we could have wished him a Happy Birthday in person, but we shall have to do so silently in our own way.  There are a few more pics in the gallery.  See you all next Sunday at the memorial.
Some New Pictures (23 Dec 2008)
Thanks to Rob, there are some new pics on the site.  There also seems to be some controversy as to which was actually THE Famous Blue Sweatshirt.  Legend has it that Jay had had this since teenagerhood, and refused to consider discarding this relic, despite the pleas of his friends!  Rob now categorically states that his picture is the actual shirt, not the one in Walter's pictures.
Leave a Comment (16 Dec 2008)
There is now a comments page for visitors to drop off some comments about Jay.  You can find it here.
Thanks to Walter, we now have some more photos–with the Famous Blue Sweatshirt!  (See the Photo Gallery)
Memorial Service News! (11 Dec 2008)
A memorial service for Jay will be held in January.  Here are the details:
When: Sunday, Jan 11th, 2009, 3:00 PM to 6:00PM (approx.)
Where: The Brazen Fox, 175 Mamaroneck Ave, White Plains, NY.  (Phone: 914-358-5911, web: http://www.thebrazenfox.com/)
What: We will have a service to celebrate Jay's life and try to share the ways in which he touched us.  Afterward, there will be some light food served and a cash bar.
What Can I Do? Well, come to the memorial if your schedule permits.  Anyone who knew him, worked with him, went to school with him, lived with him, or just heard of him is welcome!  We are still in the planning stages about what the actual service will be, so if you have suggestions, please contact us via email above, leave a phone number, and someone will be in touch.  If you have any photos of Jay that you'd like to mail or email, those would be appreciated as well.
What If I Can't Make It?  We will digitally tape the service and provide a video here on the web site, so you will be able to share the day with us.  For any techies out there, if you would like to pre-record something on some medium, we would be glad to work it into the ceremony.  For the not-so-techies out there, a letter or email to be shared on the day would be most welcome.  (We'd be thrilled to discuss any other ideas, just email us at the address above with a phone number, and someone will call.
I Want to Say Something, But I Can't Talk in Front of a Crowd! Again, contact us with a phone number via the email address above.  We can arrange to meet and record your thoughts, memories, or anecdotes on digital media which will be preserved on this web site and incorporated into the ceremony.  If you're really shy about being recorded, then an email is still a great way to honor his memory, and we will preserve it here as well as incorporate it into the memorial.